Extension of the IMT IoT
In order to keep up with increasing volume and diversity of connected devices that constitute the so-called Internet of Things, IMT has been investing in new objects representative of the smart home environment originally targeted. The rationale is that most objects currently detected on the Internet (and evidenced by the scans performed by Shadowserver) are consumer IoT ones. Indeed, short time to markets and cheap development costs contribute to a low level of security, that often translates into weak to no authentication. Attackers are therefore able to discover live objects and perform hijacking attacks to turn these objects into cyberattack nodes.
Based on this observation shared by the VARIoT partners, Mondragon University and IMT are actively analysing consumer IoTs (in particular, the smart home kind) to discover vulnerabilities or elicit traffic patterns. IMT had already deployed a first testbed of smart home objects early in the project at their Evry campus. The first of the testbed is depicted here.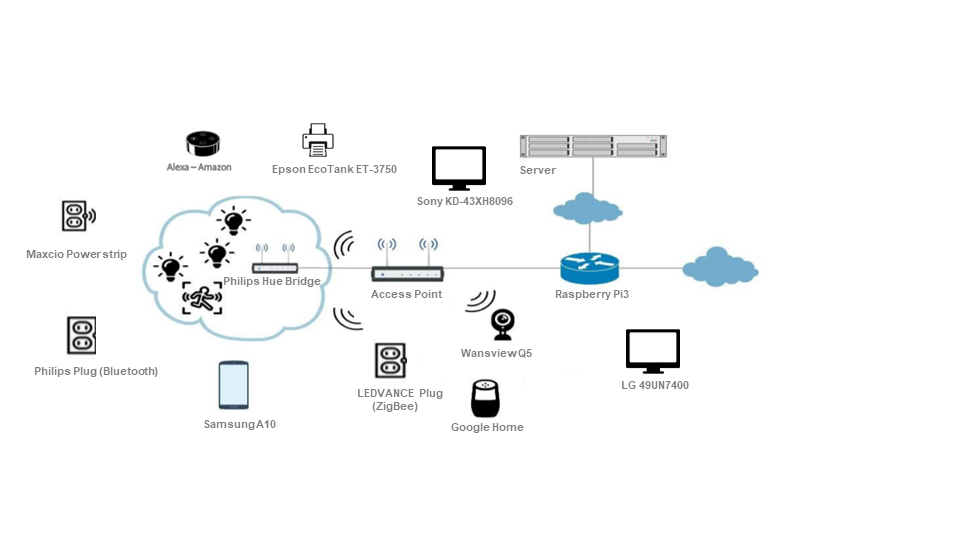 Last fall, this testbed has been extended by integrating new objects locally, as well as across campuses. IMT's secondary campus in Palaiseau is now equipped with a new testbed (see Figure) on which the VARIoT experiments are perpetuated. Traffic is elicited realistically based on human interactions, and captured using a probe device. To fulfill our research in machine-learning based anomaly detection, we also extract popular features to model the traffic of each device. These captures and models will later be shared to the European Data Portal along with the Evry campus data.